While at a friend's home this past week-end, the topic of sleep (or better said - lack of) became quite an interesting discussion among the ladies present. Discussing bargain sheets to investment sheets! Caring for bedding ...then someone
(may or may not have been me)
mentioned how much they miss getting into a bed with properly ironed sheets ~ yes, a few eyebrows were raised.
We spend about one third of our life in bed, so why not make it a little luxurious!
Once reserved for the very wealthy, a
ccess to luxurious bedding has come a long way.
Still many reach for the cheaply made bargain sheets, which only provide a false sense of saving, given the itchy, uncomfortable sleep environment created by pilling and the need to be replaced often. Over the years I have learned s
lipping into a soft, welcoming set of sheets is a relatively inexpensive luxury.
For it's year round comfort and easy care, cotton remains the go-to fiber for sheet sets.

Cotton is sometimes blended with silk, poplin, sateen and percale to control texture, stretch and durability.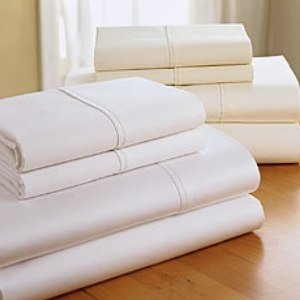 Egyptian cotton (my favourite) is truly a piece of heaven, in my opinion. The length of the cotton fiber produced in Egypt is what sets it above other cottons. The longer the fibers, the more durable and smooth the cotton becomes when it's twisted into thread and woven. Producing durable,
luxuriously
soft sheets which can start to look and feel just silk when you get into the 800 and up thread counts.
Linen fabric is definitely the crown jewel when it comes to luxurious sheets. Raw material for linen sheets is derived from the flax plant, making it harder to spin into threads, thus linen sheets are typically more expensive than cotton ones.
Linen's a true luxury fibre, requiring extra care to make sure it looks its best. However, if properly cared for, linen sheets will last for decades, unlike any other fabric. Old World French and Irish linen sheets are a much sought after treasure today.
A side from fiber choice, thread count is also something that needs to be considered when choosing a sheet set.
In theory the higher the thread count (the quantity of threads woven into a square inch of the sheet's fabric) the softer the sheet. But what about the ply? A
single-ply fabric is woven from one yarn and a two-ply fabric twists two sections of yarn together, then weaves them.
Since some manufacturers consider two-ply as two separate threads, the thread count is allowed to be doubled. Therefore a one-ply 1000 thread count and a 600 thread two-ply fabric are very different. The package for the 600 count two-ply fabric is allowed to be advertised as 1200 thread count.
When it comes to thread count, numbers can sometimes be misleading,
as you can see from the above.
Cotton is a great year round sheet choice, especially for the colder winter months, while linen is better suited for warm weather months.
In my experience when you start getting over the 600 thread count it may uncomfortably trap body heat.
I try to stay with a minimum of 300 - 600 thread count, lower count for warm weather and higher count for colder months.
Caring for your investment:
Like anything in life, the longevity of an item is not only dependent on its quality, but also the care it is given after purchase.
~ Launder bed linens weekly, wash them seperate from other laundry
~ Use gentle detergent (a baby or delicate item product)
~ Spot-treat any stains and use a gentle oxygen bleach (if required)
~ Wash in warm water and rinse in cold (I actually wash and rinse in cold)
~ Dry on a low heat and remove sheets just before they are completely dry
~ Iron - yes this can be optional (except if you have linen sheets)
But, trust me on this ~ there is nothing better than getting into a bed with freshly laundered and pressed sheets.
In the days when I could do all things for myself ~ ironing my bed sheets was one of those little things, I did for myself* with a little sprinkle of lavender ironing water on the pillow cases. If you iron your sheets, you know exactly the feeling I mean. If you don't,- give it a go, you will be impressed how much better your sheets feel.

I can't be the only would who feels Egyptian cotton sheets are worth the investment: dreams of owning a set of linen sheets and thinks sheets should be ironed - Can I?

~ please share you thoughts for selecting and caring for bed linens...
*
Mr. G, bless his heart is getting better at ironing the sheets