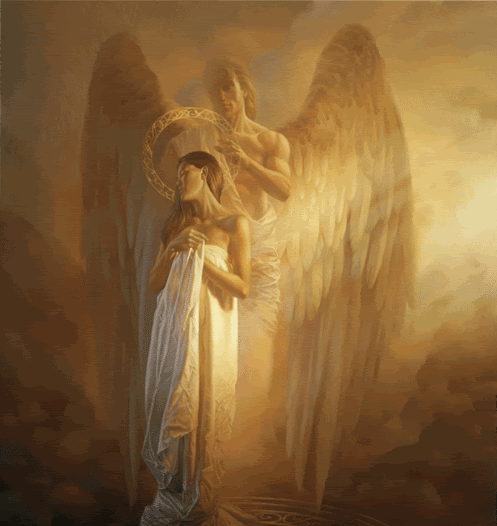 Never did I feel the hand of God and the presence of his helping Angels more than when I lay helplessly in the hospital trying to comprehend what people meant by "You are a true Miracle, doctors cannot explain how you are still here despite the numerous injuries you sustained to vital organs including a closed head injury". Of course I have always believed in God and his Angels, but to have something so profound occur in one's life ~ to know with their whole being that God really was the reason they were still alive and that his Angels now were around one's soul and body, protecting it, willing it to heal and letting me know I was not alone; is something that to this day is magical.
Looking back now and recalling things that at the time I did not connect to God's protection and his Angels. The orderly that was always around (no matter the shift, it seemed) to give the nurses a hand, each time a difficult and painful event occurred. He would gently stroke my forehead and with his eyes he would let me know that all was going to be fine. I remember at the time thinking ~ this is weird, but at the same time I felt a feeling of being safe. When I was able to speak and asked about him (as he had not been around in some time), I was told that no orderly ever assists nurses. Yet, I saw him, felt his comforting touch and warm eyes.
I remember hearing a very, very soft voice saying "He will always be with you, he will never abandon you", this I heard when someone very dear to my heart was visiting me and telling me to be strong, that I had nothing to worry about except getting stronger. I recall thinking you say that now – but you will leave me and I will be alone. At that time I thought this voice was referring to my dear friend. Now I realize the voice was telling me that no matter what, I would not be alone, God would always be with me.
After being home from the hospital almost 6 months; other than going to medical appointments and the very rare time to friends' homes I had no desire to leave my home. I felt isolated from the harsh world outside. I had no idea who I was now and what life would be like for me. Basically I had given up on living and was settling for existing. Of course HE had other plans for me ~ I just didn't know it yet.
Growing up Catholic, I have always believed in a higher power, I call him God because that is the name given him in my corner of the world. Many people ask me if I was or am I now, a very religious person. I would have to say that I am a Spiritual person ~ someone who believes in HIM with all her being ~ not for what I have been taught but for what I have seen, felt and witnessed.
May there be a miracle in your life today
and may you have the eyes to see it.
A Guardian Angel Prayer for Friends
Guardian Angel,
watch over those whose names you can read in my heart.
Guard over them with every care
and make their way easy and their labours fruitful.
Dry their tears if they weep;
sanctify their joys;
raise their courage if they weaken;
restore their hope if they lose heart,
their health if they be ill,
truth if they err,
repentance if they fail.
Amen
Angels are messengers of God in the Hebrew Bible (translating מלאך), the New Testament and the Quran. The term "angel" has also been expanded to various notions of "spiritual beings" found in many other religious traditions. Other roles of angels include protecting and guiding human beings, and carrying out God's tasks.
According to Kabbalah, there are four worlds and our world is the last world: the world of action (Assiyah). Angels exist in the worlds above as a 'task' of God. They are an extension of God to produce effects in this world. After an angel has completed its task, it ceases to exist. The angel is in effect the task. This is derived from the book of Genesis when Abraham meets with three angels and Lot meets with two. The task of one of the angels was to inform Abraham of his coming child. The other two were to save Lot and to destroy Sodom and Gomorrah.[8]
Famous angels and their tasks:[9]
• Malachim (translation: messengers), general word for angel
• Michael (translation: who is like God), performs God's kindness
• Gabriel (translation: the strength of God), performs acts of justice and power
• Raphael (translation: God Heals), God's healing force
• Uriel (translation: God is my light), leads us to destiny
• Seraphim (translation: the burning ones), protects the gates to the Garden of Eden
• Malach HaMavet (translation: the angel of death)
• HaSatan (translation: the prosecutor), brings people's sins before them in the heavenly court
• Chayot HaKodesh (translation: the holy beasts)
• Ophanim (translation: arbits) Astrological Influence
• HaMerkavah (translation: the chariot), transports God's glory
Definitions from:
Wikipedia, the free encyclopedia.
image credits: google search unless noted otherwise