In North America the bigger the better and when it comes to closets this has become increasingly the norm. Take this closet for example - despite how well organized it looks - and many of us salivating and thinking if only we had this much space our closet would be this organized. Chances are the owner of this closet and all it's contents still says
"I have nothing to wear"
! And she is probably correct, a huge wardrobe and space to store it does not automatically equal ease in dressing. Actually the more space one has the greater chance it is filled with pieces that make no-senses together or have been purchased because they "looked good on the store display" but do not coordinate with existing wardrobe pieces.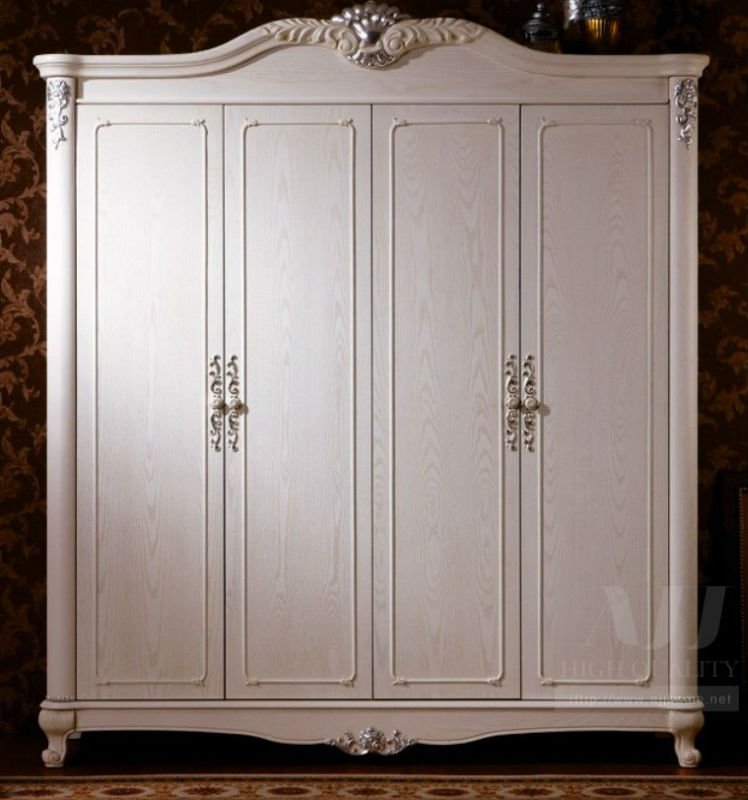 If you venture off to Europe, you will discover closets in most homes (and apartments) are not a standard feature. Like kitchens - closets are portable furniture pieces. We have all Ohhed and ahhhed, at some fabulous armoire in an antique shop- well that is what most Europeans have in terms of storage for their clothing. Perhaps this is where Europeans (and particularly the French) have gained an advantage in always looking perfectly dressed. Each piece in their wardrobe must look fabulous and make them feel wonderful when they wear it. They literally have no room to waste on pieces that may "one day" fit
or
pieces that do not work with their wardrobe basics
or
pieces that will have a shorter life span than a chocolate chip cookie in the hands of a two year old.
The average closet size and the look of it's contents in North America, probably looks a lot like this. Everything is crammed in together in a standard builder's closet - consisting of one shelf and one hanging pole. These closets of course are over-filled, with clothes that no longer fit (or were purchased - for when "I loose the weight" I will look great in this); clothes that never quite fit right but the "deal" was too good to pass up; and let us not forget with the economy so bad ~ the "I can't throw that out".
Now that you have
determined your style,
edited (decluttered) your current wardrobe
and have been left with

your basic wardrobe pieces
its time to get them off the rolling rack and into your closet.
With your Basic Wardrobe pieces hanging on the rolling rack, and your closet empty, now is the time to get in there and give a little revamp. Here are some tips on things I have done over the years of living in small apartments (with some even smaller closets).
1)
Create more space
~ often there is excess room at the top of the closet, which you either never utilize because it's difficult to get those items or you have piled on so much up there that should you move one thing it will certainly result in a clothing avalanche. Measure and determined if by removing the useless shelf if the bar can be moved up and a second bar added or a various bars and extra storage spaces. The result you have just doubled your hanging space and added extra storage areas.
Do-it-yourself kits ~ start around $140 for enough shelves, rods and accessories to outfit an 8-ft. closet.
2)
Box it up
~ If you are a shoe connoisseur, instead of having your shoes all lined up against the wall, how about keeping them in their boxes. Take a photo of your shoes and attach it to an outside end of the box. This will automatically reduce the space taken up by shoes, the boxes stack easily on top of each other and the photo lets you see exactly what pair is inside. You could also use clear boxes.
3)
Keep the floor clear
~
this will encourage you to maintain a tidy, organized area.
4)
Keep it visible
~ By keeping your basic pieces visible you will be able to easily coordinate outfits, not forget what you have and
YOU WILL HAVE SOMETHING TO WEAR.
5)
One in - One Out
~ (once you have your basic wardrobe pieces) for every new piece you put in your closet an existing piece needs to be removed (donated, sold, or discarded)
With careful planning (I didn't say it was going to be easy peasy) and staying true to your style your closet will go from the messy - disorganized disaster in the above image - to a calm, well organized closet like the image below.
Would love for you to share your tips on tackling closet organization...
For previous posts in this series click links below:

Sharing this post with:
My Friday's Fancies
*
Fashion
Friday
*
What Inspires Me Friday
Feathered Nest Friday ~
Show and Tell Friday ~ Inspiration Friday ~ Home Sweet Home Friday ~ Fridays Unfolded ~Potpourri Friday 2805
* closet make-over images via google search - image edits High Heeled Life