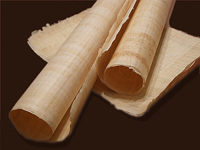 From the beginning of time man has been trying to preserve traditions and memories. Thankfully we have come a long way from having to carve pictures and words into stone or using animal skins. With the discovery of using plant leaves and the bark of trees, writing and preserving traditions and memories became much easier.The libraries of Alexandria and Pergamum were made possible through the use of the Egyptian papyrus.
According to Hellanicus, an ancient historian, the first recorded hand written letter was around 500 BC by Persian Queen Atossa, daughter of Cyrus The Great and his wife Cassandane. Queen Atossa lived between 550 BC to 475 BC.
Though technology has made it possible to connect with people across the globe with a key stroke, an instant message received on a computer screen cannot replace the warm feeling of receiving a handwritten letter; written just for you! A letter can be tucked away and pulled out, held and re-read any time.
Help keep the Art of letter writing alive ... write a letter of encouragement; congratulations; or just to let them know you are thinking of them, to a loved one today!
CONGRATULATIONS TO Sandi, writer, of
Rose Chintz Cottage
Sandi will be receiving this beautiful assortment of items to help keep the Art of Letter Writing Alive, tuck in a Creativeco-op box, which may be used to store letter writing stationary or letters/cards received. Sandi please email me at fallingoffahighheeledlife@gmail.com your mailing address and I will get your box out to you this week.
Thank you to everyone who participated in this give away, don't forget I do random give ~ aways, so if you are a follower of this blog you may just be a winner, so I hope you keep reading from time to time.
If you are looking for a fun way to keep up with your writing skills why not join BlogLand Pen Pal,